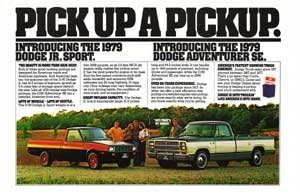 Pick Up A Pickup
Introducing the 1979 Dodge Jr. Sport
The Beauty is More Than Skin Deep.
Both of these good-looking pickups are designed for American roads and American payloads. And American legs, too: the spacious cab of the D-50 Dodge Jr. has 41.5 inches of legroom, as well as 4.6 cubic feet of storage space behind the seat. Like all 1979 regular-size Dodge pickups, the D150 Adventurer SE has restyled, brawnier front end.
Lots of Muscle--Lots of Hustle
The D-50 Dodge Jr. weighs in at a trim 2,555 pounds, so its 2.6 liter MCA-Jet engine really makes this pickup scoot. It has the most powerful engine in its class. And the five-speed overdrive stick shift adds versatility and economy. EPA estimates are 29 mpg highway, 21 mpg city.
Great Payload Capacity
The Dodge Jr. box is surprisingly large: 81.5 inches long and 64.2 inches wide. It can handle up to 1,400 pounds of payload, including driver and passenger, while the D150 Adventurer SE can haul up to 2,385 pounds.
Over 60 Years Experience
Dodge has been into pickups since 1917. So when we offer a new efficiency-size pickup, we know exactly what we're doing. So you know exactly what you're getting.