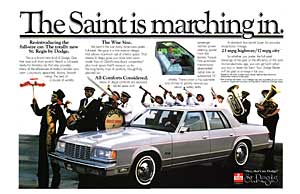 The Saint is marching in
Re-introducing the full size car. The totally new St. Regis by Dodge.
This is a brand new kind of Dodge. One that was built from scratch. Result: a full-sized, ready-for-America car that also provides many of the efficiencies of today's smaller cars. Lean. Luxuriously appointed. Roomy. Smooth riding. The best of a couple of worlds.
The Wise Size.
We kept it the size many Americans prefer... full-sized. We gave it a trim exterior design that allows maximum use of interior space. That means St. Regis gives you more total room inside than its Olds-Pontiac-Buick competition,* plus trunk space that'll measure up for the long family trips. A carefully, thoughtfully planned car.
All Comforts Considered.
Many St. Regis comforts are standard. 60/40 seats with passenger recliner, power steering, power front disc brakes, TorqueFlite automatic transmission, glass-belted radial tires on substantial 15" wheels. There's even a trip odometer and chimes to politely remind you about safety belts. A standard two-barrel Super Six provides exceptional mileage.
23 mpg highway/17 mpg city
So whether you prefer the full-sized blessings of the past or the efficiency of the automotive electronic age, you can get both when you buy or lease the Saint. Your Dodge Dealer will be glad to arrange it for you.