Brooks Institute of Photography
Recruitment Brochure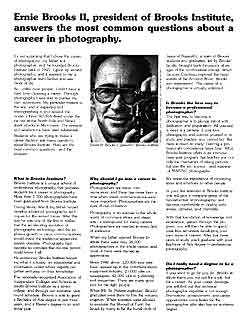 Ernie Brooks II, president of Brooks Institute, answers the most common questions about a career in photography.
It's not surprising that I chose the career of photography: my father is a photographer, and he founded Brooks Institute back in 1945. 1 grew up around photography, and it seemed to me a photographer went further and saw more of life.

So, unlike most people, I didn't have a hard time choosing a career. Through photography I was able to pursue my own adventures. My particular interest is the sea, and in exploring and photographing in and around the ocean, I have SCUBA-dived under the ice cap at the North Pole and filmed shark attacks in Micronesia. The rewards and satisfactions have been substantial.

Students who are trying to make a career decision ask many questions about Brooks Institute. Here are the most common questions - and the answers.
What is Brooks Institute?
Brooks Institute is a unique school of professional photography that prepares students for a career in photography. More than 5,000 photographers have been graduated from Brooks Institute.

During World War 2 my father helped develop advanced photographic techniques for the armed forces. After the war he was one of the first to realize that the accelerating evolution of photographic technology, and the explosive growth in visual communications would make the traditional apprentice system obsolete. Photography had become so complex that no one person could know it all.

He envisioned Brooks Institute becoming what it is today; an educational and information center where experts can gather and pass on their knowledge.

The nationally-recognized Association of Independent Colleges and Schools accredits Brooks Institute as a senior college, and through our intensive, yearround schedule, Brooks is able to grant a Bachelor of Arts degree in just three years, and a Master's degree in an additional year.
Why should I go into a career in photography?
Photographers are visual communicators, and there has never been a time when visual communications were more important. Photographers are the eyes of our civilization.

Photography is an avenue to the whole world of communications and visual arts-a springboard for many careers. Photographers are needed in every field of endeavor.

When my father opened Brooks Institute there were only 38,000 photographers in the whole nation, and most of them were trained as apprentices.

In the last four years, 120,000 new jobs have opened up in the communications equipment industry, 27,000 jobs on newspapers, 42,000 jobs in publishing and magazines. There are many good jobs for the right people.

When Mt. St. Helens exploded, Brooks' graduates were there to film the volcanic eruption. When scientists were allowed to examine the Shroud of Turin (believed by many to be the burial cloth of Jesus of Nazareth), a team of Brooks' students and graduates, led by Brooks' faculty, brought back thousands of images of the controversial shroud. When Jacques Cousteau explored the headwaters of the Amazon River, Brooks was represented. The career of a photographer is virtually unlimited.
Is Brooks the best way to become a professional photographer?
The best way to become a photographer is to plunge into it with dedication and preparation. All you really need is a camera. If you love photography and commit yourself to its study and practice, you cannot fail. But there is much to study. Gaining a professional's competence takes time. What Brooks Institute offers is an intensive three-year program that teaches you not only the mechanics of taking pictures, but also the art, science -- and business -- of MAKING photographs.

We stress the importance of conveying ideas and emotions to other people.

In your first semester at Brooks Institute you will gain a complete grasp of the fundamentals of photography, and become comfortable in dealing with lenses, cameras, and chemistry.

With that foundation of knowledge and experience, gained through the program, you will then be able to spend your final semesters developing your own areas of interest. After just three years of study you'll graduate with your Bachelor of Arts degree in professional photography.
Do I really need a degree to he a photographer?
If you want to go far you do. Brooks Institute trains you not just for a job, but for a career. As your career develops you will find out that technical photographic expertise is not enough. Promotions, advancement, and career opportunities come faster for the photographer who also has an academic degree.