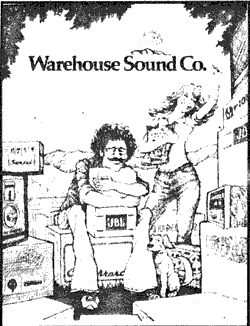 Warehouse Sound
My first major freelance copywriting project was a 64-page catalog for Warehouse Sound. The president of the company was dubious of my credentials at first, but in our second meeting I drew a graph of how sales had gone after each of the previous nine annual catalogs: I had all the peaks and valleys correct, and I was hired.
This was the secret: the original catalogs reeked of authenticity. The president wrote them himself, and he was obsessed with stereo equipment. You felt like you were getting the straight truth about the products.
As the years went by, however, the president let underlings take over the production of the catalog, and he was interested only in things like $25,000 turntables.
The target audience was college students, yet the text about the low-end stereo systems in the most recent catalog was bored and dismissive. I said we should turn it around: talk about the lowest-end system as if it were a solid system with great sound. And then each successive system was even better!
He went along with me. I wrote a couple of ads to go into Playboy magazine and National Lampoon.
The campaign won a Gold Mailbox award from the Direct Mail Marketing Association.