Introduction
A spear-point presentation dagger by Buster Warenski. The spiral-cut heart of ebony handle is inlaid with twisted sterling silver wire. The guard and ferrule are layers of nickle-silver and bronze, with engraving hand-tooled by the maker. Warenski is famous for this style knife, and is acknowledged to be one of the modern masters of knifemaking.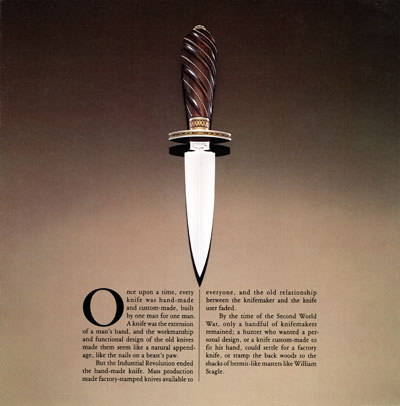 Once upon a time, every knife was hand-made and custom-made, built by one man for one man. A knife was the extension of a man's hand, and the workmanship and functional design of the old knives made them seem like a natural appendage, like the nails on a beast's paw.

But the Industrial Revolution ended the hand-made knife. Mass production made factory-stamped knives available to everyone, and the old relationship between the knifemaker and the knife user faded.

By the time of the Second World War, only a handful of knifemakers remained; a hunter who wanted a personal design, or a knife custom-made to fit his hand, could settle for a factory knife, or tramp the back woods to the shacks of hermit-like masters like William Scagle.