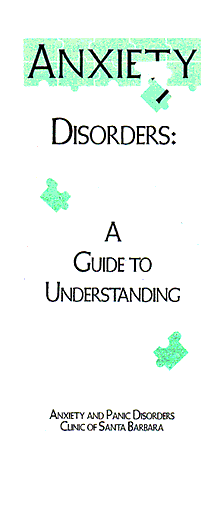 Anxiety and Panic Disorders Clinic
of Santa Barbara

Treatment
Anxiety disorders are among the most treatable psychological disorders. Common treaiment methods vary widely.
The Anxiety Disorders Association of America has determined that the most effective treatments involve cognitive-behavior therapy and medication.
Cognitive therapy helps people analyze and direct their thoughts and beliefs that may be causing or contributing to overwhelming anxiety. Cognitive therapy helps people learn to distinguish realistic thinking and appraisal from catastrophic, fear-producing thoughts.
Behavior therapy employs a variety of techniques that help people modify and change their reactions and behavior. A primary treatment technique is gradual exposure to anxiety-producing objects or situations.
Medication often plays an important role in the treatment of anxiety disorders. It is most effective when used in conjunction with cognitive-behavior therapy.
For further information contact:
Anxiety Disorders Association of America
information@adaa.org
or Anxiety and Panic Disorders Clinic of Santa Barbara