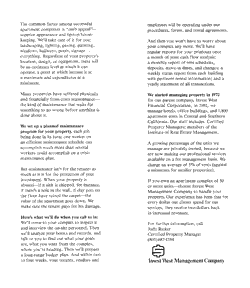 Invest West
Property Management
The common factor among successful apartment complexes is "curb appeal"--superior appearance and tip-top housekeeping. We'll take care of it for you: landscaping, lighting, paving, painting, windows, hallways, pools, signage ... everything. Regardless of your property's location, design, or equipment, there will be an optimum level at which it can operate: a point at which income is at a maximum and expenditures at a minimum.
Many properties have suffered physically and financially from crisis maintenance­-the kind of maintenance that waits for something to go wrong before anything is done about it.
We set up a planned maintenance program for your property, each job being done in its turn; one worker on an efficient maintenance schedule can accomplish much more than several workers could accomplish on a crisis maintenance plan.
But maintenance isn't for the tenants as much as it is for the protection of your investment. When your property is abused--if a sink is chipped, for instance, if there's a hole in the wall, if clay pots on the floor have ruined the carpet-the value of the apartment goes down. We make sure the tenant pays for his damage.
Here's what we'll do when you call us in: We'll come to your complex to inspect it and interview the on-site personnel. Then we'll analyze your books and records, and talk to you to find out what your goals are, what you want from the complex, where you're heading. Then we'll prepare a long-range budget plan. And within two to four weeks, your tenants, vendors and employees will be operating under our procedures, forms, and rental agreements.
And then you won't have to worry about your complex any more. We'll have regular reports for you: printouts once a month of your cash flow analysis; a monthly report of rent schedules, deposits, move-in dates, and changes; a weekly status report from each building with pertinent rental information; and a yearly statement of all transactions.
A growing percentage of the units we manage are privately owned, because we are now making our professional services available on a fee management basis. We charge an average of 5% of rents (against a minimum for smaller properties).
If you own an apartment complex of 50 or more units--choose Invest West Management Company to handle your property. Our experience has been that for every dollar our clients spend for our services, they receive two dollars back in increased revenues.