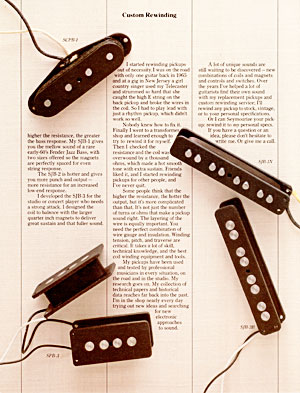 Custom Rewinding
I started rewinding pickups of necessity. I was on the road with only one guitar and at a gig in New Jersey a girl country singer used my Telecaster and strummed so hard that she caught the high E string on the back pickup and broke the wires in the coil. So I had to play lead with just a rhythm pickup, which didn't work so well.

Nobody knew how to fix it. Finally I went to a transformer shop and learned enough to try to rewind it for myself. Then I checked the resistance and the coil was overwound by a thousand ohms, which made a hot smooth tone with extra sustain. Friends liked it, and I started rewinding pickups for other people, and I've never quit.

Some people think that the higher the resistance, the hotter the output, but it's more complicated than that. It's not just the number of turns or ohms that make a pickup sound right. The layering of the wire is equally important. You need the perfect combination of wire gauge and insulation. Winding tension, pitch, and traverse are critical. It takes a lot of skill, technical knowledge, and the best coil winding equipment and tools.

My pickups have been used and tested by professional musicians in every situation, on the road and in the studio. My research goes on. My collection of technical papers and historical data reaches far back into the past. I'm in the shop nearly every day trying out new ideas and searching for new electronic approaches to sound.

A lot of unique sounds are still waiting to be discovered--new combinations of coils and magnets and controls and switches.

Over the years I've helped a lot of guitarists find their own sound with my replacement pickups and custom rewinding service; I'll, rewind any pickup to stock, to vintage, or to your personal specifications.

Or I can Seymourize your pickup: rewind it to my personal specs.

If you have a question or an idea, please don't hesitate to write me. Or give me a call.

12-page product catalog, 8.5" x 11"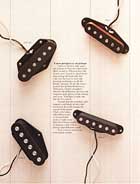 Telecaster and Stratocaster
Humbuckers
Custom rewinding