2008 Photos
Gerald B. Campbell
Pop was featured in one exhibit at Zapfest in 2001.
At Zapfest, Susan Skarsgard presented several videos of Pop creating calligraphy.
We met for dinner the evening before her presentation.
---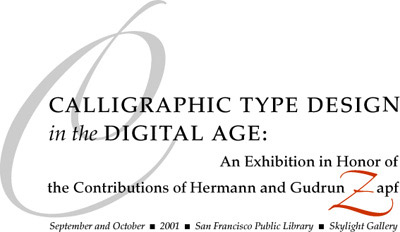 Two of the finest practitioners of both traditional calligraphy and modern digital type design are Hermann Zapf and Gudrun Zapf von Hesse. They have consistently embraced new technology and turned it to the service of enduring quality. Beginning this September in San Francisco, an exhibition and series of ancillary events will highlight the considerable contributions of the Zapfs.