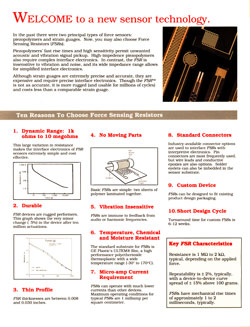 Interlink Electronics
WELCOME to a new sensor technology.
In the past there were two principal types of force sensors: piezopolymers and strain gauges. Now, you may also choose Force Sensing Resistors (FSRs).
Piezopolymers' fast rise times and high sensitivity permit unwanted acoustic and vibration signal pickup. High-impedence piezopolymers also require complex interface electronics. In contrast, the FSR is insensitive to vibration and noise, and its wide impedance range allows for simplified interface electronics.
Although strain gauges are extremely precise and accurate. they are expensive and require precise interface electronics. Though the FSWM is not as accurate, it is more rugged (and usable for millions of cycles) and costs less than a comparable strain gauge.
Ten Reasons to Choose Force Sensing Resistors
1. Dynamic Range: 1k ohms to 10 megohms
This large variation in resistance makes the interface electronics of FSR sensors extremely simple and cost effective.
2. Durable
FSR devices are rugged performers. This graph shows the very minor change ( 5%) in the device after ten million actuations.
3. Thin Profile
FSR thicknesses are between 0.008 and 0.030 inches.
4. No Moving Parts
Basic FSRs are simple: two sheets of polymer laminated together.
5. Vibration Insensitive
FSRs are immune to feedback from audio or harmonic frequencies.
Temperature, Chemical and Moisture Resistant
The standard substrate for FSRs is GE Plastic's ULTEM® film, a high performance polyetherimide thermoplastic with a wide temperature range (-30° to 170°C).
Micro-amp Current Requirement
FSRs can operate with much lower currents than other devices. Maximum operating conditions for typical FSRs are 1 milliamp per square centimeter.
8. Standard Connectors
Industry-available connector options are used to interface FSRs with interpretive electronics. Pin connectors are most frequently used, but wire leads and conductive epoxies are also options. Solder eyelets can also be imbedded in the sensor substrate.
9. Custom Device
FSRs can be designed to fit existing product design packaging.
10. Short Design Cycle
Turnaround time for custom FSRs is 6-12 weeks.
Key FSR Characteristics
Resistance is 1 Mil to 2 kil. typical. depending on the applied force.
Repeatability is ± 2%, typically. with a device-to-device curve spread of ± 15% above 100 grams.
FSRs have mechanical rise times of approximately 1 to 2 milliseconds. typically.