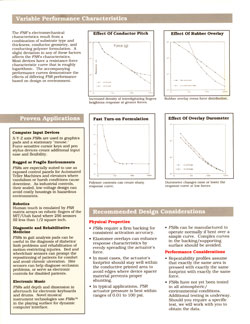 Interlink Electronics
Variable Performance Characteristics
The FSR"s electromechanical characteristics result from a combination of substrate type and thickness, conductor geometry. and conducting polymer formulation. A slight deviation in any of these factors affects the FSR's characteristics. Most devices have a resistance-force characteristic curve that is roughly logarithmic. The accompanying performance curves demonstrate the effects of differing FSR performance based on design or environment.
Proven Applications
Computer Input Devices
X-Y-Z axis FSRs are used in graphics pads and a stationary "mouse." Force-sensitive cursor keys and pen stylus devices create additional input ease and flexibility.
Rugged or Fragile Environments
FSRs are especially suited to use as exposed control panels for Automated Teller Machines and elevators where vandalism or harsh conditions cause downtime. As industrial controls. their sealed, low-voltage design can avoid costly housings in hazardous environments.
Robotics
Human touch is emulated by FSR matrix arrays on robotic fmgers of the MIT/Utah hand where 256 sensors fill less than 1/2 square inch.
Diagnostic and Rehabilitative Medicine
FSRs in gait analysis pads can be useful in the diagnosis of diabetics' limb problems and rehabilitation of motion-restricting injuries. Bed and wheelchair sensors can prompt the repositioning of patients for comfort and avoid chronic ulceration. Bite sensors can help diagnose occlusion problems. or serve as electronic controls for disabled patients.
Electronic Music
FSRs add depth and dimension in aftertouch for electronic keyboards and drums. Novel musical instrument technologies use FSRsTM in the playing surface for dynamic computer interface. Durometer changes raise or lower the response curve at low forces.
Recommended Design Considerations
Physical Properties
FSRs require a firm backing for consistent activation accuracy.
Elastomer overlays can enhance response characteristics by evenly spreading the actuator's force.
In most cases. the actuator's footprint should stay well within the conductive printed area to avoid edges where device spacer material prevents proper shunting.
In typical applications, FSR actuator pressure is best within ranges of 0.01 to 100 psi.
FSRs can be manufactured to operate normally if bent over a simple curve. Complex curves in the backing/supporting surface should be avoided.
Performance Considerations
Repeatability profiles assume that exactly the same area is pressed with exactly the same footprint with exactly the same force.
FSRs have not yet been tested in all atmospheric/environmental conditions. Additional testing is underway. Should you require a specific test, we will work with you to obtain the data.