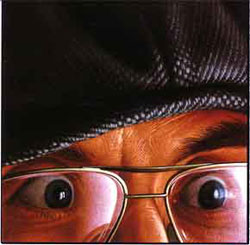 Gordon Mortensen's
direct mail campaign
2. Thalia Busts In
A blonde in a ten gallon sweater plunged into my office. "Hello, Detective Smith," she sdid. "My name is Thalia Mews. I need you to find this man." She handed me a picture of a pair of eyes.
"What's the guy's name?" I said.
"That's the trouble, if I could remember his name I could find him myself." She gnawed a knuckle. "Daddy says I'll never have a memory like Mom did."
"You don't give me much to go on, Ms. Mews," I said.
"Call me Thalia," she said. "He was a graphic designer at Better Homes and Gardens, but he left to be an art director at Playboy. I must find him."
"And when we find him?" I said. "What then?"
She looked worried. "I'd better not say...we need his help, but.. .Mr. Smith, it's a real Gordian knot of a problem, but I'm sure you can unravel it." She handed me a sheaf of C-notes.
I thumbed the Franklins. "Where do we start?"
We took the stairs to the parking lot, but before we got to my car a black limo squealed to a halt in front of us. Two men leaped out, one with no neck and the other with a single bar of eyebrow. They aimed pistols at me and Thalia.
Next: The End of New Ideas